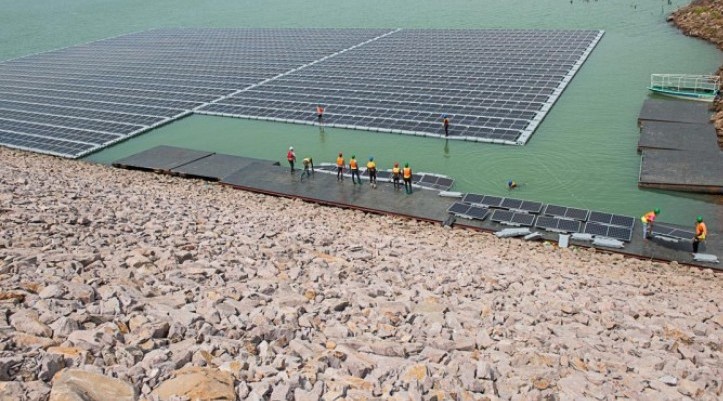 The Ghanaian government is exploring ways to diversify the country's energy mix by adding wind and solar to its national grid. It will help to shift from fossil fuel dependency, supplement water resources to offset drought periods, and lower energy costs.
The Bui Power Authority held discussions with USAID-NREL Partnership at an NREL-hosted workshop. The workshop focused on advanced photovoltaic plant capabilities, solar and wind grid integration, and optimal integration of small-scale and utility-scale variable renewable energy (VRE) into Ghana's national grid.
USAID's Power Africa West Africa Energy Program (WAEP) and NREL, worked together with BPA, to bring about 50 megawatts of solar PV energy into operation at the Bui Generating Station hydroelectric dam in 2021. The expected power generation is 250 megawatts at the end of completion by late 2022.
The hydro-solar hybrid facility also features a 1-megawatt floating solar component. It also has a 20-megawatt hour (MWh) battery energy storage system and controls. The improved power generation capacity will power at least 200,000 households.
"The global challenge of climate change, as well as the need to secure energy supply, makes the development of the hydro-solar plant important for Ghana and West Africa," said Peter Acheampong, deputy director of renewables at BPA. The photovoltaic addition to the plant will allow the BPA to balance the variable output of solar by the simultaneous increase/decrease of hydropower output in real-time. It will maintain a steady power supply to meet demand in times when solar energy cannot be tapped.
"We are equipping them with all the tools and lessons we learned in the United States about VRE integration and, in some cases, helping them to avoid some of the challenges we had with the latest technology and standards. Having this type of partnership is an effective way to streamline the process of integrating advanced technologies," said David Corbus, the Wind Grid Integration Lead at NREL and a member of the NREL-WAEP team supporting the Ghana solar project.
Besides the PV installation, the NREL-WAEP partnership is also rolling out a program for decentralized PV in Ghana to allow consumers to use rooftop solar power.
NREL-WAEP will help electricity distribution companies to use tools effectively to help install PV units and understand financial implications for utilities and consumers under different scenarios.
It will also help assess the benefits and challenges of capacity-hosting analysis and check new customer solar installations.
"We worked with the Electricity Company of Ghana and the Northern Electricity Distribution Company, where we transferred open-source software to them and gave them training, capacity building, and workshops with utility engineers where we assessed plans and looked at studies for integrated distributed PV," Corbus said.